My adoptive parent clients and I spend a lot of time getting to know each other before we decide to work together. Adoption can be an emotional rollercoaster. It's important to me that we build trust and set expectations from the very beginning.
Like all of my clients, the Poseys knew that I only work with prospective parents that I have actually met in person, and this was one of the things about my practice that appealed to them. I require an in-person meeting because I learn a lot about my clients as individuals and as a couple when I see them interact together and with me. We spend a lot of time talking about the adoption process and what it's like from the expectant mom and birth parent perspective. My client-families like that I'm a birth mother and that my ethics and my process are very birth parent focused. I also tell expectant moms that I have met every family that I'm working with, and I think this goes a long way to build trust with her as well.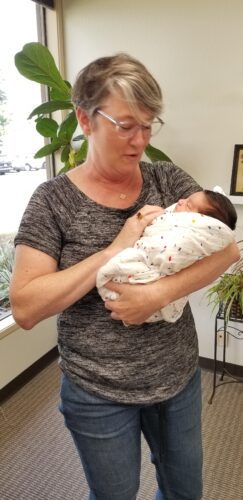 Our Adoptive Parent Clients
There are several things I'm looking for when deciding if prospective parents are a fit for me, and vice versa. Like all of my prospective clients, the Poseys knew before they hired me that I only do open adoptions. They also understood and respected that I only work with prospective parents who are open to a child of any gender or race and any prenatal environment. This was in-line with their philosophy as well. My client families are all open to just about any expectant mother situation that comes through my office.
Our Families Understand Open Adoption
The reason I need my clients to be open to everything is that my adoption outreach practice is small (adoption outreach means helping my clients find a baby to adopt). I want to be able to provide the best one-on-one attention to my adoptive parents and the expectant moms who choose them. It's important to me to give each match my full attention and expertise. For this reason, I only work with about eight to ten waiting client-families at a time, and I do about ten to twelve of these private adoptions each year.
Because my practice is small, and I'm committed to making sure each of my clients become adoptive parents, I need to be able to present my client-families to any expectant mother situation that comes through my office. The more often I can present my families, the better their chances of being chosen. By the same token, if my client-families had a lot of restrictions about what they are open to, there's a very good chance that an expectant mom would contact my office and I wouldn't have any families for her.
Why Work With The Adoption Resource Center
Choosing the right adoption professional to help you find a baby to adopt is an important decision. When Kristen and Buster Posey adopted twins, they had made the choice to work with me. I pride myself on being accessible, honest and dedicated to my adoptive parent clients.
We knew we wanted to work with Megan after our first phone call with her. We did our research and talked to other attorneys and agencies.  After our conversation with Megan we knew we had found a great fit for our family! It was such a relief, and we felt lucky to have found her. Megan is a really good listener. We feel we can be open and tell her anything. She will tell us the truth, not what we want to hear. We really respected the fact that she did not give us guarantees. Megan didn't paint a rosy picture of how our adoption journey would go. She clearly and frequently managed our expectations and supported us through some difficult decisions, always compassionate and thoughtful.
We appreciate how Megan makes a complex and emotional process feel natural and positive for everyone. As a birth mother herself, Megan helped us understand what our daughters' birth parents were going through. She was always ready with perspective and guidance as we were building a relationship with them and their family.
Kristen and Buster Posey