My Daughter Is Putting Her Baby Up For Adoption And I Need Advice
You may feel afraid that she will make the wrong choice and worry about how she will live with that choice.
Maybe you feel that you want to help by telling her what she should do even though you aren't sure if it's the right choice.
Anger is common, frustration that she got herself into this situation in the first place and feel that you should have an influence on the decision she makes about your grandchild.
You may feel incredibly sad that your daughter is going through a difficult time and you can't fix it.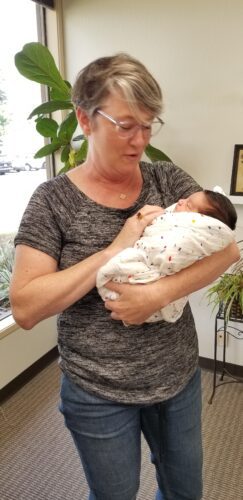 Be patient.  Be supportive.  Listen.
It's hard to accept that the adoption choice belongs to the birth mother, regardless of her age, and the reality is that only she knows what's best for her.  When your daughter is putting a baby up for adoption, she will live with her choice for the rest of her life.  She will remember the experience long after others have forgotten.  While adoption may not be something parents would ever consider for themselves, adoption can be the right choice for some women.  Here is what other parents say:
I think the most important thing a birth mother's parents can do is to take time to think before speaking as their daughter faces this awesome decision.  My initial reaction was to assure my daughter that everything would be all right and that we, as a team, would figure out what is best. I then realized I had a plan for her and the baby, which was, at times, ahead of where she was in her thinking.  It is difficult to see sometimes that what you feel, as a parent, is the best course is not always what your daughter feels is the best course for her.  It's important to have patience, undivided love and attention to her fear and, possibly, her panic.

Try to let go

Try to let go of your own pre-conceived ideas of what constitutes a good family and of your own fears. Have faith that, with love, you and your daughter will find the way, whatever decision she makes.  She needs your unconditional love, support, and trust that she will make the right decision.  I tried to listen to my daughter's hopes and fears without judgment and let her know I would support whatever decision she made to the best of my ability. 
Show her that you support her regardless of her choice
If your daughter is pregnant and thinking about adoption, the most important thing you can give her is your support, whether you agree with her choice or not.  Supporting her means you respect her and want to help her regardless of her choices.  Pressuring her into doing what you think is best could have the opposite effect because doing what is best for you may not be best for her; as she moves forward, the pressure may impact her self esteem, her confidence, and her perspective on her choice.  It can lead to serious regret.
Parents also worry that showing support for the adoption will put pressure on their daughter to go through with it.  The opposite is actually true.  The support you show is for her ability to make her own choices not for the adoption itself.  The key is to clearly send the message that you support whatever she chooses whenever she chooses it and that you will be there for her through it all.
Ask your daughter how you can help.
Let her tell you what she needs.
Offer to put together a team of professionals to provide her with the information she needs to make the choice that works best for her.
Here is what other parents say:
Find conscientious, kind, caring, knowledgeable professionals to help her through the process and help her determine whether adoption is right for her and the baby.  I knew we were not equipped to provide all that our daughter needed during this process. The process of deciding whether to do the adoption or keep the baby was emotionally charged and fraught with twists and turns in the road. The team was key in keeping us on course and providing us with support. We helped our daughter find a counselor, an adoption lawyer we trusted, and an OBGYN who supported her and her choices the way we did.  The team also was critical in helping me understand that this is my daughter's decision, not mine, and that making the decision was not only good for her but good for the baby and for us as a family.

My advice to parents of birth mothers is to find an adoption professional that has similar values, is experienced with the process, and has a strong reputation.  So this was something we got right; a great referral from a trusted source.  

Talk with an expert

The adoption attorney advised her about how to position herself in a way that would protect her and the baby in case the father ever decided to insert himself into the situation, either about the adoption decision or if my daughter kept the baby. 
What if friends and family don't support the adoption? 
Dealing with unsupportive family and friends is one of the most difficult aspects of being the parent of a birth mother.  Many parents choose not to share with family and friends until after the adoption is complete, and everyone has begun to move forward.  The goal here is to make your own choices without outside influences clouding your decision making.  This will reinforce for your daughter that her feelings and well-being matter most, not what others think.  This continues through the adoption process and beyond.  Here's what other parents have to say:
Shutting out the outside influences was a challenge. That chorus of opinions continued to cause doubt about the adoption decision, at least within me.  Continuing to refocus on our daughter helped. What did she want? Asking what she needed? She was always clear about going forward with the adoption.

Think about the future and how she will feel

Once the baby is born and the adoption takes place, it does not magically alleviate the hurt and the "what if" thoughts for your daughter or you.   Our daughter most needs us to talk to about the baby, and the most important thing you can do is to continue to keep talking to your daughter. She needs to know you care and know the baby is always a constant thought.  She is a mom even though she is not mothering daily.
The bottom line? Focus on your daughter.  And don't stop talking about the adoption.
The content of this article is based almost entirely on the advice and experience of parents whose daughters worked with our firm to create an adoption plan.  Some of these women ultimately chose to parent their child.  Of course, one short article will not answer all of your questions. Fee free to reach out to me directly using the contact button below if you have questions or just need someone to talk to.